FREE TARGETS
Four 4's For FREE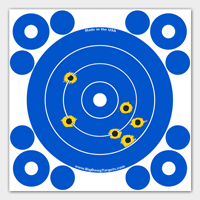 We want you to try our targets.
Sign up for our
email list
, and include your mailing address and we will drop them in the mail.
You will also be entered in our monthly email sign-up drawing
Already signed up to our email list? Head back to our email sign-up page and add your mailing address and we will send you targets too.
Win a Free Pack of Targets
Everyone who signs up for our email list will be entered into a drawing for a free pack of targets. This drawing will be held on November 30 so sign up now.
We will email the winner to determine what style targets you would like, make sure to keep an eye on your email.
Give a Target Get a Target
Help us spread the word about Big Dawg Targets. If you are out shooting and you share one of our targets with your friends or even someone you don't know,
tell us about
it and we will replace your missing target with any target of your choice from our target line up. We will need to confirm your purchase to be eligible but in most cases if you bought online we can look you up. If you purchased your targets at a store let us know the store where you purchased. Limit 5 replacement targets during this promotion.
We will not sell or give your email or mailing address to anyone it is strictly for communications from Big Dawg Targets and to send you promotional items. Free target promotions are while supplies last. Free targets are one per mailing address, if you have a lot of shooters at one address please send us a note via our contact page and we will work something out.